500 Hour Teacher Training Program
Yoga Teacher Training
500 Hour Program




For the Goal of Self Realization




"To teach yoga one must have love in their heart"
Chandra Om
apply online • print an application • pay in full • pay deposit
2018 - 2019 Course Dates
Sept 28, 29, 30
Oct 26, 27, 28
Nov 16, 17, 18
Dec 14, 15, 16
Jan 25, 26, 27
Feb 22, 23, 24
Mar 15, 16, 17
April 12, 13, 14
May 17, 18, 19
Registration Deadline
July 1, 2018
Schedule


Friday 5:30pm-8:30pm
Saturday 6:15am-8:30pm
Sunday 6:15am-4:30pm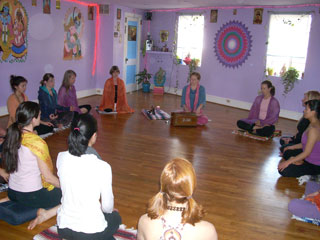 Welcome to the Shanti Niketan Ashram 500 hour teacher training page. This unparalleled and comprehensive training is a natural outgrowth and progression from our basic 240 hour program. Our trainings are known for their supreme authenticity and thoroughness. Designed to take students more deeply into the vast and holy science of yoga, it is perfect for those who feel they need further study, guidance and purification beyond the 200 hour level of training(whether taken with us or somewhere else). This training brings rapid and far reaching effects throughout one's life, making yoga a way of life, and permeating every aspect of daily living. The holy Science of Yoga is a stairway to bliss, supreme health, and inner peace. It is the science of Self realization and those that practice it are called yogis. It is meant to be taught directly from teacher to student, ever deepening one's communion with God. We don't teach styles of yoga, but traditional, classical yoga, passed down through the millennia without change or dilution. We have offered this training since 2004 and it has consistently transformed the lives of hundreds of students around the world. It is an honor and true gift to be able to offer these teachings to those that hunger for spiritual knowledge, which ends all pain and suffering.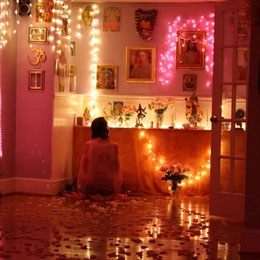 Throughout the course of this training, students will study and practice in the idyllic environment of the Ashram, learn and teach the Ashram's Hatha-Raja Yoga level II and III sequences, study scripture, practice proven meditation and pranayama techniques for purification of the body and mind, engage in karma yoga (selfless service) and kirtan (devotional chanting). Students will also have extensive study in yogic anatomy, alignment, therapeutic asana, energetic anatomy, physiology, teaching methodology, yogic lifestyle and philosophy, kriya, and study of the Self.
This training takes students on the deeper more subtle inward path of yoga: self reflection, concentration and meditation while simultaneously cultivating a strong physical practice to purify and strengthen the body. Most importantly, students are lovingly and consistently guided to cultivate the essential virtues of unconditional love, purity, selflessness, charity, humility, willingness to serve, contentment, truthfulness and kindness. Without these virtues, there can be no success in yoga.
The boundless love and wisdom of God is waiting to be discovered within. Remove wants and needs. Live a simple and productive life in service of others. Love all, serve all. Listen for God in the silence of the heart. Calm the mind. Be at peace. God bless you.
Course Curriculum
Level II & III Asana Sequences
Yoga Lifestyle
Raja Yoga
Purification
Teaching Clearly & Specifically
Hatha Yoga
Satsang
Yama & Niyama
Karma Yoga
Psychic Development
Bhakti Yoga
Mantra Yoga
Detoxing & Cleansing
Mantra Instruction
Kriya Yoga
Sattvic Ahara (Yogic Nutrition)
Jnana Yoga
Philosophy & Ethics
Asana Alignment & Form
Breathing & Meditation Techniques
Anatomy & Physiology
Therapeutic Asana
Sequencing & Progression of Postures
Scriptural Study
Chakra System
Yoga Nidra
Bandhas
Course Requirements
100% Attendance — NO EXCEPTIONS
Commitment to the entire program
Daily development of all limbs of Yoga practice
Daily pranayama/meditation practice (at least 45-60 minutes)
Daily asana practice
(at least 45-90 minutes)
Completion of all required
reading/writing assignments
Vegetarian diet & no alcohol or drug consumption
One day of silence per week
40 hours of Karma Yoga at the Ashram
A sincere desire to serve humanity
Attendance in weekly Maha Sadhana at the ashram (Special arrangements may be made for out of town students)
Completion of a 3 month internship period following weekend intensives (internship is completed at home)
Tuition
The fee for this course is $3650, paid in full at the time of acceptance into the program.
If you prefer incremental payments, you may instead pay $500 at the time of application, plus four (4) of $850 (on subsequent dates which will be listed in the letter of acceptance) — for a total of $3900.
We accept checks, cash, money order and paypal.