240 Hour Teacher Training
Yoga Teacher Training
240 Hour Program




For the Goal of Self Realization




September 2018 - May 2019
apply online • print an application • pay in full • pay deposit
Fall 2018 Course Dates
Sept 14, 15, 16
Oct 12, 13, 14
Nov 9, 10, 11
Dec 7, 8, 9
Jan 4, 5, 6
Feb 1, 2, 3
Mar 1, 2, 3
Apr 5, 6, 7
May 3, 4, 5
Registration Deadline
July 1, 2018
Schedule


Friday 5:30pm-8:30pm
Saturday 7:00am-4:30pm*
Sunday 7:00am-4:30pm
*Saturday times are 7:00am-6:45pm on the Nov, Feb and May weekends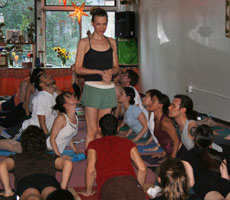 Welcome to the Shanti Niketan Ashram's 240 hour Teacher Training Program page. Our 240 hour program is an exploration and study of the full science of yoga, encompassing the eight limbs and nine forms of yoga. Designed for both aspiring and current teachers as well as those who simply wish to deepen their own personal practice, our intention is to share the joy of the spirit of yoga with you while providing the most systematic and comprehensive course in traditional yoga.
We have been training and certifying yoga teachers since 2001 and were the first yoga teacher training program in the triangle area and the third in the entire state. Students come from all over the world to attend our training courses, and we have certified students from all over the United States as well as England, Prague, Italy, France, Australia, Liberia, Germany, Latvia, Israel, and Vietnam over the last 17 years. The 240 hour program is a comprehensive, classical training course and includes all traditional components of yoga including Asana (postures), Pranayama (breathings), Meditation, Purification, Sequencing, Yogic Nutrition, Mantra, Anatomy, Physiology and Pathology, Conditions and Injuries, Energetic Anatomy, Philosophy and Ethics, Scriptural Study and above all, Yama and Niyama, without which there will be no success in Yoga. Our training courses are profound and intense opportunities for personal development—physically, mentally and spiritually—following the guidance and precepts of traditional yoga.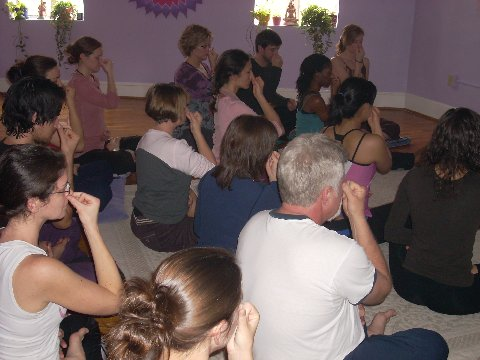 The study of Yoga is the study of Self and students lives are forever changed as the miraculous and ancient teachings of yoga come to life with the deepening of personal practice and study. Yoga is a life of self-discipline and as yoga purifies, strengthens and balances the body and mind, the practitioner develops supreme health, self control and a peace that surpasses all understanding. We do not teach 'styles' of yoga, but the authentic and pure teachings of classical yoga, meditation and purification that serve as a stairway to bliss, promoting harmony within all layers of the body, mind and soul so an integrated state of radiant health is achieved. We are extremely honored to offer this truly comprehensive yoga training program to the public.
Course Curriculum
Beginning, Level I & II Sequences
Yoga Lifestyle
Hatha Yoga
Purification
Raja Yoga
Detoxing and Cleansing
Kriya Yoga
Yama & Niyama
Jnana Yoga
Psychic Development
Teaching Clearly & Specifically
Karma Yoga
Bhakti Yoga
Mantra Yoga
Mantra Instruction
Satsang
Yoga Philosophy & Ethics
Sattvic Ahara (Yogic Nutrition)
Chakra System
Intro to Yoga for Pregnancy
Relaxation
Bandhas
Asana Alignment & Form
Breathing & Meditation Techniques
Anatomy & Physiology
Scriptural Study
Sequencing of Postures
Course Requirements
100% Attendance — NO EXCEPTIONS
Commitment to the entire program
Daily development of all limbs of Yoga practice
Daily pranayama/meditation practice (at least 30-60 minutes)
Daily asana practice
(at least 30-90 minutes)
Completion of all required reading/writing assignments
Punctuality
A sincere desire to serve humanity
Attendance in a weekly class at the ashram—any class, any level – (Special arrangements may be made for out of town students)
Completion of a 3 month internship period following weekend intensives (internship is completed at home)
Tuition
The fee for this course is $2950, paid in full at the time of application.
If you prefer incremental payments, you may instead pay $500 at the time of application, plus three (3) of $900 (on subsequent dates which will be listed in the letter of acceptance) — for a total of $3200.
We accept checks, cash, money order and paypal.