Savasana: Guided Meditations
Savasana: Guided Relaxation CD
By Chandra Om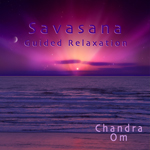 Savasana is a healing practice of progressive relaxation to relax the mind and body, in order to overcome body awareness within a state of alert awareness.
Savasana rejuvenates the body and mind and is the best antidote for toxic impurities.  Students are guided to the most powerful awake state of conscious relaxation that has a profound and deeply relaxing effect on the human system.
It is scientifically proven to be a preventative and curative tool to counteract diseases, and if practiced regularly, Savasana serves as a means for exploring the deep mind and unlocking our spiritual potential.