The Holy Science of Yoga: A Handbook for Sadhakas
The Holy Science of Yoga: A Handbook for Sadhakas
By Chandra Om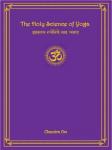 An inspiring, practical and comprehensive text on the knowledge, method and practice of the Holy Science of Yoga, designed and written for the Yoga Sadhaka. Uplifting and penetrating, The Holy Science of Yoga is a directive to spiritual development and Self-realization.
Outlining the universal path of Yoga for the serious practitioner, this rare and unique text covers all aspects of Yoga Sadhana, including the 8 Limbs and 9 Forms of Yoga, the Purification Process, Karma and Reincarnation, Yogic Diet, the Guru-disciple relationship, Ethics and Morality, Mantra and numerous personal subjects which the Sadhaka faces as spiritual life deepens.
An excerpt from The Holy Science of Yoga:

The Yoga system consists of philosophical meditation, bodily disciplines, mental control and asceticism and those who practice it are called Yogis. Yogis that take the search for freedom into the innermost part of their soul are called Sadhakas. Surrender to Ishvara (the Lord) is the highest Yoga and the purpose of all practice. The harmonious unification of body, mind and soul allows the full awakening and realization of the love of God to be born within the heart and mind of the practitioner, while simultaneously eradicating the vacillating and unreliable temperament of the worldly, material mind.

The Yogi undertakes the precise and systematic process of mental and bodily disciplines and purification for the emancipation of the soul. The techniques within the Yoga science are designed to take the practitioner beyond the material world to reveal the Imperishable Self within — beyond the limited confines of body, mind and senses. The science of Yoga is considered by Yogis to be the highest and the greatest gift to the human race. Yoga is spiritualization of life and the path to the Divinity within. God bless you.
Chandra is born with divine treasures and I consider her the most qualified to share them with those who are thirsty for liberation. Doubtless this book is endowed with divine treasures especially for those who are seeking enlightenment. With the best blessings that this book remove the doubts and settle the mind into silence.
Lots of love, Sri Dharma Mittra
Helpful to the serious Sadhaka and the beginner alike, The Holy Science of Yoga is a Divine light to all Yoga aspirants, reflecting the truths that bring clarity, confidence and inspiration into daily life. Reflecting the very essence of the science of the Self, this beautiful and uplifting text is a support and solace to all sincere seekers.
$35 • Add to Cart