In Honor of Sri Dharma Mittra
In Honor of Sri Dharma Mittra
Presented by Chandra Om to her Guru, Dharma Mittra, at the Guru Purnima Celebration, 2007
Discipleship of an enlightened sage is an amazing journey. Dharma Mittra is such a being.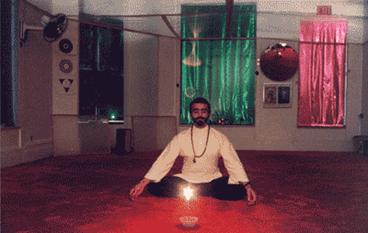 Over the years of being with Dharma, I have seen many disciples come and go, but in the true sense of sanyas, Dharma always remains... there for anyone who wants to listen and learn. His love and compassion flood the disciple's heart, eroding and eradicating the ego. With single-minded devotion and dedication you can achieve your goal and attain Self-realization very quickly—in one way—total dedication to the Guru and implicit obedience. The mind will question, the ego will doubt. Use your discrimination to see the traps of the mind, the ego and surrender. Surrender your baggage, your background, your identities, and allow your heart to be polished and shine like the lotus flower that it is. Only an illumined Master can guide you in this. Dharmaji is such a Master.
When I first met Dharma, I was a mess. An egotistical mixture of fears and doubts. Dharma saw it all and worked for me, until I could work with Him for myself. When I look at Dharma, my doubts vanish and my debts are paid. He is the last of a dying breed. In this fast paced world where Yoga has become yet another commodity and "Yogis" forget about morality and ethics, still stands Dharma. Like an untouchable diamond. He is steadfast in his ideals of service, and His heart is clean. He has LIVED Yoga for 50 years and understands the compassion and determination it takes to surrender one's life to God—the patience it takes. Dharma Mittra has patience. He is willing to wait for students to mature, and in the meantime will be your father, brother and friend. My most Beloved Guruji, Savior of my life, I humbly bow over and over at your lotus feet.
Yours, Ever to Command, Chandra Om
View all: