Article on Chandra by Ruth Deerfield
Article on Chandra
by Ruth Deerfield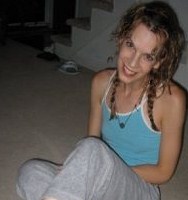 Chandra Om is emerging as a teacher to the most advanced yoga students in her home base of Raleigh NC as well as serious students and teachers from around the world. When I heard she would be visiting the Charlotte area, I signed up for all classes, to see for myself what the buzz was about.
Chandra appears as a strikingly beautiful, unassuming and delicate young woman. By young, she appears about 14 years old. One look into her eyes quickly nullifies that, as the depth of spiritual background is clearly evident. With a limit set at 40 participants, the classes quickly sold out. As director of the North Carolina School of Yoga and a reputation as being the most advanced student of Yogi Dharma Mittra, the excitement in the room was palpable. "She is the most authentic yogi I have met--and I go to a lot of workshops. She is the real deal," Myra Reslenberg told me before the Saturday morning session. "She knows more than any teacher I have ever taken class with, but is the most unassuming and humble of them all."
Chandra's classes are challenging and participants work hard. Friday evening and Saturday, she taught several different practices, covering everything from discussion on karma, reincarnation and ethics to pranayama (breathing) practices (Nadi Stimulator was amazing), strong vinyasa flow classes, relaxation and lots of time for questions, which almost everyone had. A key concept that Chandra kept coming back to was surrender of the ego and selfless service. In asana practice, she kept reminding students to offer up the "fruits of their efforts" to the supreme self, rather than being attached to any outcome. "The foundation of yoga is yama, without which there will be no success in yoga. You do it because it has to be done, and remain unconcerned with obtaining the fruits of any actions. Every pose, every action, every breath should be an offering to the supreme self."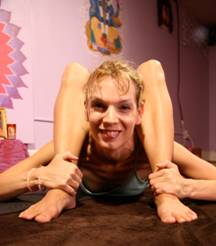 After the most dynamic sequence of poses I have ever seen (or attempted), we practiced the corpse pose, trying to observe the astral body while Chandra instructed us to "leave the body by itself." This is when the emotional stuff really began coming up. I heard many students softly crying and sniffling. Chandra kept guiding us into the most relaxed corpse pose I have ever experienced. "Imagine you are floating inside a beautiful paradise. Dark sky, beautiful lights, everything is calm and peaceful." I must confess I did not want it to end. Once we came up from relaxation Chandra guided us in what she called seedless meditation and emphasized concentration, clearly explaining meditation.
Chandra has been living the yogic lifestyle for almost 20 years, and performed the most exquisite poses, weaving philosophy through all the sessions, all the while amusing, loving and teaching with wisdom and humor. The highlight of the weekend was her depth of the true science of yoga. Her words rang in my ears long after the sessions had ended and I find myself longing to travel to Raleigh, NC simply to be near her again.
This article was written in June 2007 by Ruth Deerfield, a freelance writer in Charlotte, NC. She has written for the Charlotte Weekly & Charlotte Post and is an avid Yoga practitioner.
View all: